• herbal • meal replacement • obesity • weightloss • weightloss shake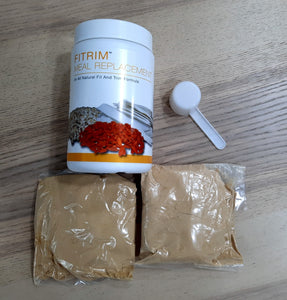 We have redesign our Fitrim Meal replacement to a bottle form containing our meal replacement powder. It come with a plastic scoop. Each scoop hold 20g of powder which to to be added to 400ml of water, milk, yogurt or your prefer beverage to give you a full, healthy meal. Every scoop of powder has only just 58kcal. This make it an excellent meal replacement which can drastically reduce calories intake. Hence, it has a significant effect for losing weight, lowering blood glucose and lipid. Each bottle contain 2 bag of powder, 300g each and a plastic scoop.
---
• health • obesity • slimming • weight loss
Re-post from Health Xchange http://www.healthxchange.com.sg/Pages/home.aspx Sustained long-term weight loss should be viewed as a lifelong commitment and in order for it to be effective, one has to make gradual permanent changes to their current lifestyle. Lifestyle changes often require time, adopting new skills, identifying current behaviours that have led to weight increase and replacing them with healthier habits. As behaviour modifications do not take place overnight, support from family members and friends can be beneficial. Generally, weight regain is more likely if there is rapid weight loss compared to slow and steady weight loss. The best and safest way to lose...
---
• health • meal replacement • obesity • slimming • supplement • Traditional Chinese Medicine • weight loss • weightloss shake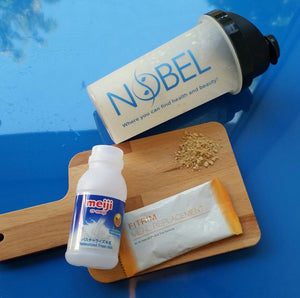 The  product which is included in the Wellness Management Program is Fitrim meal replacement. This product is a suitable meal replacement and supplement for busy individuals as it provides all the daily nutrition we need without having to take any additional synthetic vitamin pills. It is also the perfect solution for those who lead a hectic lifestyle but yet wish to take good care of his or her health in a fast and convenient way. This advanced phytonutrient rich super food contains 90 uniquely combined nutraceutical ingredients. It is a 100%  super food which does not contain any dairy,...
---
• health • obesity • physical activities • positive behaviours • slimming • weight loss
Weight loss is NOT for people with low self esteem. Some might want to lose weight purely for looks and some for their health, whatever the reason it is definitely better than people not doing anything at all. Erika Nicole Kendall stated in her article that: "Every time someone brings up this "weight loss is for people who think something's wrong with them" thing, I am reminded of my own question of why it's about weight loss at all… why isn't it about health? If you're dealing with type 2 diabetes, and saying you don't neeeeeeeeeed to lose weight because that's for...
---
• diet • health • obesity • Sleep Apnoea Syndrome(SAS) • slimming • weight loss
Sleep Apnoea Syndrome(SAS) Snoring(due to airway obstruction), restless sleep and sleepiness are the most common symptoms shown in Sleep Apnoea Syndrome (SAS).During a seven hour sleep, if breathing is stopped more than 30 times and each time is above 10 seconds this is a clear sign of Sleep Apnoea Syndrome. During sleep apnoea, a person will experience an increase in Carbon Dioxide(CO2) in the body. Chemoreceptors are receptors which respond to any changes in CO2 or Oxygen(O2). There are two main types of chemoreceptors, central and peripheral and both responds to an increase in Carbon Dioxide. As a result, this...